Meet the Awntel Property Advisors Real Estate Team
AWNI AND CHANTELL ABBAS - "AWNTEL"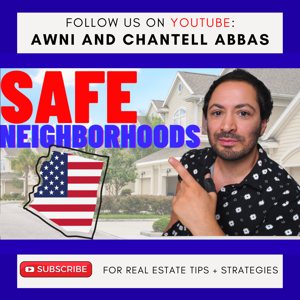 AWNTEL'S 7 STAR SERVICE REPRESENTATION:
1. TRUST
Like a foundation of a property needs to be solid so that the property can be built to withstand time and circumstance, so too does the trust we build with you. Trust to us means you never have to wonder if we are acting in your best interest because our actions show you that we are. Knowing that we are transparent and act with integrity, no matter what the circumstances, will offer you peace of mind. We put our best foot forward to treat you as we want to be treated and value our relationship with you, which we hope will last well beyond our business together.
2. SERVICE
Service is not just a word we throw around to impress you. Service means we put our blood, sweat and tears into working for you. Service means that we are right there next to you because your goals are our goals. Service means every client and every project is both personal to us and gets equal and fair treatment. This includes clear, frequent, and fast communication, real estate education, flexible service options, and cancel-anytime contracts with zero penalties. Whatever it takes to make your dreams come true, we have the service to make it happen! AND THAT'S 7 STAR SERVICE!
3. VALUE
Value is a subjective measure. Because value is different to everyone, we strive to offer you the value that your real estate needs. That means we will accommodate your wants and needs inside and out. It also means that we will work with you at any stage. Whether you are a first-time home buyer looking for a starter property or a developer looking to tear down and build to sell big, we will provide value to help you meet your goals.
4. RESPONSIVENESS
Timing is life and real estate is everything. Thus, we aim to be responsive to all your needs, big or small, in a manner that ensures you feel well taken care of. That may be a returned call in as little as five minutes or helping you from across the country via Skype or Zoom (video conferencing). This also means that when we help manage your process for you, we respond professionally to the needs of the entities we interact with on your behalf, such as banks, title, inspectors and agents, which we view as a part of the team. Our goal is to ensure we are able to address any need surrounding your business in a manner that helps the process feel smooth as silk and have a positive outcome.
5. NEGOTIATION SKILLS
Negotiation is more than what you see on TV shows or read in books. Negotiation is about securing a win-win for everyone involved. Our expertise in negotiation means we will fight to get you the best possible deal using every tool in our real estate tool belt. It also means we will to be honest with you and let you know when we think what we negotiate is truly in your best interest. Moreover, when we negotiate, we do so with respect for everyone involved because to us relationships and how we treat people matter. With that in mind, we will not settle without securing the best possible outcome for you, whether it be full asking or grants to help you achieve your dream of homeownership
6. LOCAL KNOWLEDGE
To us, local means more than just telling you about the nearby school systems, the nearby shopping and entertainment, or how great the view is. When we discuss local knowledge, we discuss how a local street may affect property value due to traffic, how planned development may affect your potential property years down the road, and why something as small as how the sun sets on your property will affect your lighting needs. To us, local means drilling down to how the little things about the area you want to buy or sell in will affect you in the short and long term.
7. PROCESS EXPERTISE
We know the process of buying, selling, investing, owning, or developing a property can be tedious and nuanced. That is why a part of our promise is our intimate knowledge of every step in the process of your project and how to systematically navigate each step with as little hassle to you as possible. Our in-depth knowledge of the process equals the best outcome for your real estate goals because we can predict and proactively react to the needs of your project and, in turn, avoid stress and frustration for all involved parties.
I have over fifteen years of experience combined in the mortgage lending and real estate fields. I am also the Author of "The Ultimate Guide to Central Phoenix Real Estate", a licensed Real Estate Broker, and the founder of Awntel Property Advisors with my amazing wife, Chantell.
We are also members of the National Association of Realtors, Phoenix Association of Realtors, West Maricopa Association of Realtors.
In our free time, we love to relax with our five furry children (5 cats and a Pomeranian dog). We also enjoy fitness, art, music shows, comedy shows, traveling, and hiking. We are passionate animal lovers that enjoy donating our time to animal shelters/adoption centers throughout Phoenix.
"Their expertise helped me price the property right and their enthusiasm helped me sell the property fast." ~ Kristin Clark, Satisfied Seller
See you soon!
Awni and Chantell Abbas
Meet the Team